The Morning Mile is now a ritual. 25 days now. Wow.
I want to come clean. COVID as the quarantine period dragged on activated the hibernator energy in me…
It's not that I wasn't doing things, especially around the home. But lack of a weekly dance and the usual outings to stores and parks meant, well, my energy field changed. It seemed to drop into a mode where any possible calories were being stored for "a long winter" and my energy level – vitality – was reduced.
With a new baby, LOWER vitality is NOT what I needed! To say the least.
I know some (rare) people establish new habits and rituals easily. Not me.
For me I need to make it easy straightforward as possible. It needs to be achievable. A quick walk somewhere nearby (or even around in circles in the house if necessary) for 1 mile would be it. About 11-15 minutes out, and 11-15 minutes back.
We're really fortunate to be near the Blue Ridge Parkway and the Mountains to Sea Trail that runs along it. For the past 25 days I've picked a segment, set a timer, set AllTrails to map the trip, and walked. Three mornings a week I'm by myself. The other four my boy Emerald (almost 7 years old) comes with me. Adventure!
The results inside me are significant. The trend towards contraction has reversed. It feels like my "world" has expanded.
The trend towards storing energy and shutting down any "unecessary" expenditure has reversed and now there's a trend towards having more energy (and resilience).
It's not dramatic. It's palpable… I can feel it. My partner notices it. I notice it.
Here's the map for a bit longer Morning Mile that Emerald and I did this morning. You may be able to click the image to see the photos and path in more detail:

We took a side track to explore which added a half mile.

Why am I sharing this?
Well, because getting movement seems to be really hard for many in the community right now. Yes, there are still quarantine restrictions in many areas. But even in areas where outside activity is allowed, there's the fear factor and the "contraction" factors to consider.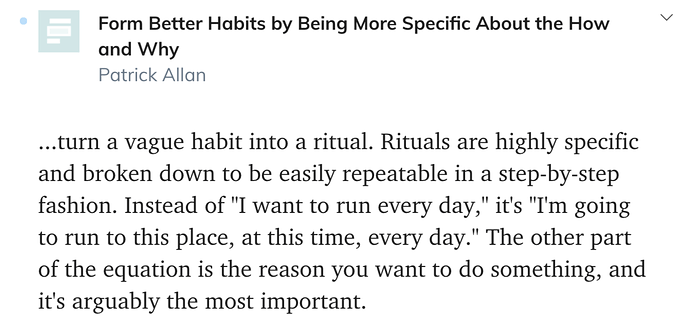 As the quote above mention, it is often the reason you want to do something that is the most important.
I'd say it is the REASONS (multiple) that are most important!
One reason alone – like wanting to use weight – would NOT have gotten me out every morning for 25 days. No way. Not when it was raining.

Stack Your Reasons
When I have many reasons why I want to do something, each day one or more will feel activating – even if others don't. Here are just some of the reasons for my Morning Mile:
Vitality Re-activated!
Expand my energy
Experience Nature in its weather variations
Get to be an Explorer
See and sense what's around me - sensory awareness
Feel the earth beneath my feet
Dance along the trail
Listen to music
Unwind my tensions
Use my stored weight
Build strength to be able to carry my daughter as she grows
Process emotions that get clogged in my tissues
Move lymph to support my immune system
Have more temperature resilience (so I can enjoy cold, hot, wet, dry weather)
Maintain my physical and sexual presence
Have a positive, FUN physical experience I can do each day with an intention for 5000+ steps a day (without overdoing it)
Live longer and healthier to be alive and vibrant with my partner and children
What's It For You?
I'm inviting you to consider what movement daily or weekly would
add to your vitality. Share it in a reply if that's a YES for you.
Make a list of as-many-benefits as you can come up with the support this change. Those are the fuel.
Then, make a list of the RESISTANCE that comes up. Resistance is a companion to change of any kind.
If you choose to share your resistance, I'll do some tapping to help support you and post it here. Deal?
Here's to Thriving Vitality for you, me, and WE!
~ @Rick