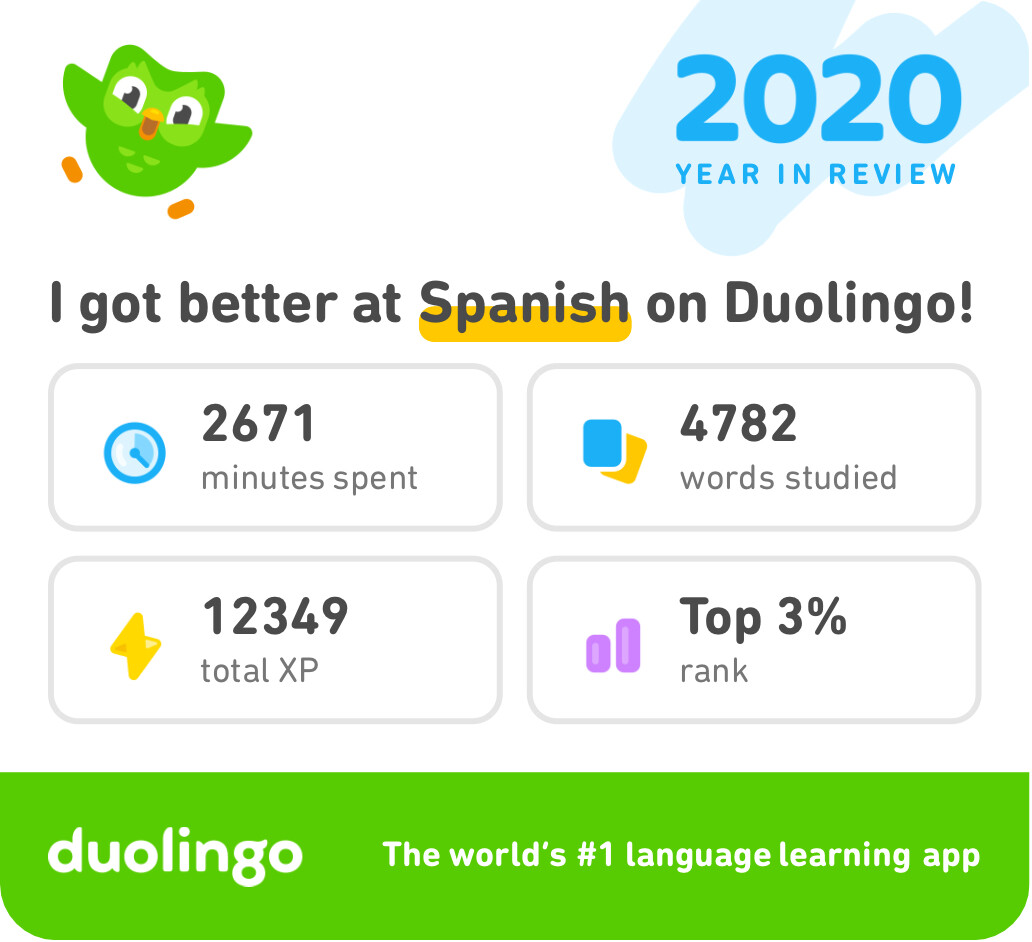 Today is day 169.
Weirdly, in this review Duolingo says I am in the top 3% of learners on their site – a site with MILLIONS of learners.
I assure you this is not because I know or learn Spanish faster or easier than 97% of the rest of the people.
What they are measuring here is XP - experience - which I would call Engagement. And that's true. I have been engaged. I've been showing up each day and doing a little.
Doing a LITTLE Each Day
That was what I decided to do. And THAT was hard enough and took some EFT Tapping to free myself from old traumas around learning a language.
I had horrible Spanish teachers in high school. 3 fulls years of Spanish there had made it possible for me to ask where the bathroom was and little more. So weird, eh?
I nearly did not finish college from taking one final semester that included Italian 101. It maxed out my D credits allowed to still graduate, and I got the D only because he felt sorry for me.
All those years traveling to Italy had not made me in the least fluent. I started to understand a bit (and could order an ice cream and, like in Spanish, ask where the bathroom was). Not much else.
So why in the world learn Spanish now?
Desire. Weirdly enough, I really want to be able to connect with people who speak Spanish.
Freedom. I want the Freedom to consider living for awhile in a country where Spanish is the spoken language (I know I won't go if I cannot sufficiently communicate since verbal communication is so core for me.
**I'm not naturally good at it. It exercises healthy humility. ** I know whether it's dancing or flying a plane or playing a guitar, it feels "important" for me to have something I definitely desire that I am not naturally good at. It evokes aliveness in my brain, and the desire keeps it alive. I get to feel humble without being "defeated" (if that makes sense).
Showing up consistently. This is the big one. I felt with Duolingo the way it was structured that I could have a "streak" of days where I did at least show up and do one lesson. And it's worked!
Duo is enthusiastic! The little green own cheers me on. Yeah, that matters to me. We're doing Duolingo ABC's with the boy and it got me wanting the little guy to cheer me on with something, too!
Emotionally, I've built on this growth!
The consistency and pleasure I've gotten from Duolingo recalibrated my "consistency" circuits. Sometime around Duolingo Day 140 I started the Morning Mile.

The success and consistency of the Morning Mile I'm using to post here on the Community Center in a daily way, too.
What would you like to add to your world… consistently?
I'd like to know! And I invite your [Reply] to share with me and with us.
What I can share from experience for myself and clients is this:
a) It helps to Tap on past experiences that create a sense of "what's the use" or pre-disappointment.
b) Start with something you really DO desire, for a dozen reasons! And make the daily thing a microstep (baby step) so that "success" cannot be about not having enough "time" or it being "too hard."
c) If you don't do it, go back and look at the resistance… the "What doesn't feel safe, or attractive enough, about this?" Tap. Get help with it if needed. Share with a friend (and here in the community) to support and encourage you.
Use energy to fuel more growth and change… without pushing and willpower
I have to say that I have needed very little "willpower" to do this.
Which is good. I actually have very little willpower.
By aligning my desires, clearing the resistance, and getting some real pleasure and celebration from the microsteps I've taken, it builds vitality – and vitality is core for both change and thriving.
Gracias por escucharme!