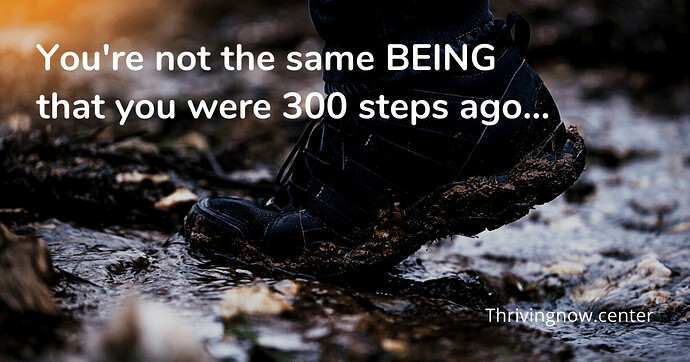 Welling Sadness…
That's what I'd always called that feeling. Sinking energy, welling feeling in my throat and face like I was heading to tears.
I was on my way to my Morning Mile walk in the woods. This feeling was so familiar. The question I asked was the same one I'd asked so many times before…
Why am I feeling so sad?!?!
Hmmm… this morning that question didn't feel useful.
I've been working a lot with unnaming. Sure, I do believe that our emotional vocabulary is important. Someone who only has two words: happy and sad… will be always painting their emotional world in two colors.
At the same time, I've noticed more and more that sensations I habitually have labeled sad or scared are not always… that. Taking a courageous act that really and truly matters to me that I feel really good about can hit the same sensation pathways as being fearful… even if I'm not really scared!
"I feel sad." Actually, it was true at a 2.
Meaning, not really an accurate description! (10 would mean totally true.)
"I have these sensations I've always labeled as sad in the past." That was a 10.
But it was a blend of sensations. With a bit of extra attention, it was clear that I was not feeling what I'd call "sad" – my energy felt like it had some… cravings… longings… wantings.
What does my body-mind most want right now?
It wanted to move, but more slowly than my usual walk. It wanted to spend time really savoring and noticing. LOTS of Simple Uplifts. And it needed permission to feel sensations wherever they were present, in sinews and bones and heart and blood.
300 steps later, I was a different Being.
My energy had changed, just 300 steps into my walk. (Yes, I measure with my phone.)
Those sensations I'd initially labeled sadness had shifted. There was an awareness of the cold causing my body to activate more inner heat. There was balancing and shifting and breathing and heartbeats I could feel.
Just 300 steps.
Interesting, isn't it?
Our emotional weather (our State of Being) is so dynamic and changeable. 300 steps. 30 taps. 3 breaths. Notice. We've changed.
For me one core of Emotional Freedom is a sense that we have increased savvy with our energy – it's flow, vibrancy, expression, balance.
I'm inviting you to try this for yourself.
Pay attention to sensations and flows and stagnation of energy in your body.
Move for, say, 300 steps
Be With+In your body-mind.
Notice what has changed.
If you're a yes, please [Reply] and share! @Rick