This morning I sat and watched as two colorful balloons danced our family room as sun beamed in and the sparkly cushion we got from Goodwill glistened under the chair.
As Christmas Mornings go, this was really… simple. And yet the uplift was palpable. While my heart-adopted boy is at his Dad's and we won't be able to pick him up today due to treacherous ice on the mountains, the Simple Uplifts have given me a grounded sensory awareness for the family life Jem and I are actively crafting here.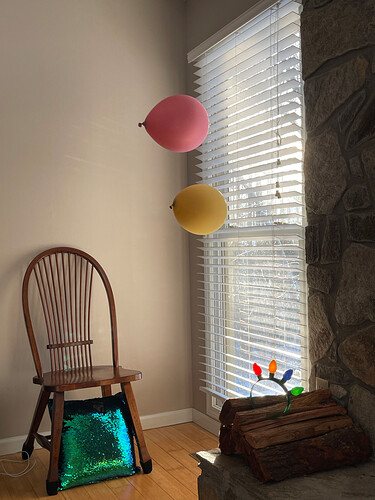 The balloons are not helium. We discovered that that particular vent has an air flow that lets balloons dance, then settle down in between cycles, then dance again! Normally it is just one we have there… for Christmas, two have been dancing.
Uplift. Simple.
I'm noticing that this isn't necessarily "gratitude." Or even "appreciation" in the usual sense. Sure, if you asked me if I was grateful for my life? ABSOLUTELY. Do I appreciate what I have and the kin I share it with? ABSOLUTELY.
What I mean my uplift is an actual sensation. Buoyant - but subtle. A rising, but not enough to lift me up into the air.
I got the same feeling walking while talking with @Cathy for my Morning Mile - which actually was an Afternoon Adventure with the frigid cold and ice we had this morning.
I felt the uplift just being with her. Then there was the crunch of icy snow under my trail runners. Crunch Crunch Crunch. Even better than salty chips! CRUNCH!
Which brings me to this invitation…
I believe that sharing our Simple Uplifts would benefit each other. A simple uplift isn't the same for me as the Big Gift or Win or Success. It's something that would probably go unnoticed by someone wrapped up in tension and worry.
My belief is that Simple Uplifts are core to filling our joy tanks on a sustainable basis – and not just when the tank is empty and the indicator is flashing yellow.
To validate this I'd really enjoy hearing from you…
What is a Simple Uplift for you?
Click [Reply] and let's share!