Wow… A look back at my previous post titled "My New Axe! But I don't feel proud of it! frowning", that was actually a year ago…! So much has happened for me, especially the struggles through my internship and my hostel stay… And I'm sooo glad that I came out of all of it…! I wouldn't use the word that "It made me stronger…", but instead, all these experiences made me more vulnerable, more authentic, more hateful, more lustful, more rebellious. It made me realised how unloved I was, and from there, I know that I needed loving, I needed the respect that was never given to me…
But yes, wow still can't believe that I've been here for more than a year, and back then since at my verge of deconstruction…!
But cutting to the chase, here it is! the beautiful fender blues junior that was recommended by my guitar instructor…!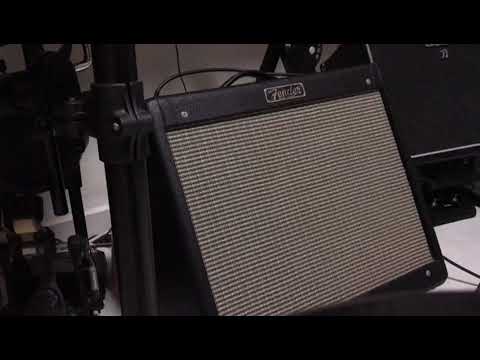 Before getting this amp, I must say that I've been swirled into the whirlpool of debates on tube amps vs. solid-state (digital) amp. To give some simple understanding, digital amp are a little like listening through a hi-fi system, but tube amps are like listening to live concerts (? - not the most accurate, but the idea is somewhat there). We've reached such a time where even digital amps (like my BOSS katana) was able to emulate the brilliance of a nice guitar sound from expensive amplifiers like Marshall or Vox. Yet, there was something missing… Sure, tonally both of them sound great when played side by side, but the tube amp just has a little 'magic' that digital "might never" be able to replace. That is, the warmth, the 'life', the 'punch', the response, the dynamics in the sound, or in fact, the 'unpredictableness of the harmonics' in the sound (as texas blues alley puts it Tube Amps 1: Why Tube Amps? - YouTube). The unpredictableness of the sound that comes out from the tube amps breathes life out of the air from the amp. It's magic. Yet, there would be a ton of players out there saying how revolutionary digital amps are (and they are…) and how even so many professionals are ready to sell their tube amps away to convert to a digital rig, because they seem to do the same job well, and sometimes even better. Reliability, low maintenance since no tube replacements needed, lighter amp and no need for loud volumes from a tube amp…
Sure, those are valid and that's their experience I suppose…! But for me, at this juncture, the tube amp seems to outperform digital with that 'magic'. Comparing between the digital, the digital would be sound to my ears, but tube amps are like a "physical" thing (as yngwie (a famous guitarists) puts it haha!) No matter how nice the digital amp is, it doesn't push air out like a tube amp. It's… well… beautiful that it works that way…!
And I just I'm happy that I came to the conclusion that I "needed" a tube amp, and narrowing to the blues junior…! And this time, I can be happier and more proud to say that "I loved it from first impressions!

" and even if I don't, I'm happy to keep in mind a safe exit to move on from it if that does happen! (i.e. sell it, find something else!)
P.S. Just a reflective thought: Many older guitar players I've met seem to have this trend. As they get older, they got more and more tired of listening to metal, or heavy rock music. And they settled for lighter genres like funk, reggae, blues or jazz. Man… when I grow old, nevermind hard rock or heavy rock, I wish that I'd still be able to live and breathe the blues!