I'd like not to Carrot at all…
I read a really uplifting, hopeful tweet about bringing more freedom to many millions – even billions – of people around the globe.
Then I made the mistake of scrolling down and seeing the comments. One comment was from someone who so fits the description: Hater.
He dismissed the possibility. He asserted with arrogance that HE knew that all this would be worthless 10 years from now. Blah blah puke blah blah.
I mentioned in another topic that I am seeking to learn from someone the "smile, nod, and let it go" approach to such ignorance and hate.
Truth is that in all the things I've worked on my in life that have ended up making a positive difference for humanity – online communications, word processing, alternative health information, emotional freedom, massage and bodywork, and more…
There have always (!) been haters. People who dismiss, roll their eyes in contempt, curl their nose in disgust, and fan out their ignorance like peacock feathers made of cow flops.
Can you tell I have a hard time with haters?
That said, truth is that I tend to choose and be attracted to work that matters, that can make a difference, that improves the we-spaces of our communities. I'm not sure why the haters exist – I'm just (as I write this) wondering whether they are actually a sign I'm onto something.
I mean, if it is an awesome idea, "shouldn't there be haters"? Isn't that the way it works at this point in our evolution?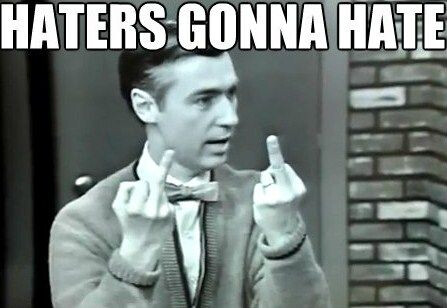 You tell 'em, Mr. Rogers!