This is the first collage experience from the book Collage Care: The Method; I think I told you about it a few weeks ago. Anyway, this one is about exploring the power of the triangle shape as an emblem of power and transformation. There are many historical meanings of the triangle…I chose thoughts, feelings, emotions. It's about visualizing my transformation, seeing mySelf achieving new skills. Thank you for asking, Jean. Writing down what it means gives it power and I probably wouldn't have written this if you hadn't asked!


I love what you posted about everything is art and I agree with it. It's all so interesting.
Yes I know a little about the power of the triangle and how neat you used it in your collage. Now I understand a little more. I want to see if I can find that book or another explaining it in more detail. I love learning like this, thank you.


I am happy to share the collage experiences with you as I do them, if you are open to that. I found the book on Amazon: Collage Care: The Method by Laurie Kanyer, MA
Yes I am open to having you share your the collage experiences with me. I saw the book too but I am going to try and read an ebook on collages first. I don't buy real books anymore because I cannot read the print anymore. How is the fonts in the Collage Care book?
That's great! I learned a lot about collage from Collage Techniques by Gerald Brommer. See if it is available on Kindle (or wherever you read e-books.) Collage Care fonts are "normal" and might be difficult for you to read.
That makes me smile Jean, thank you for sharing your art

I just absolutely love this Jean!
Thank you Kate

I appreciate that my art made you smile, Kate.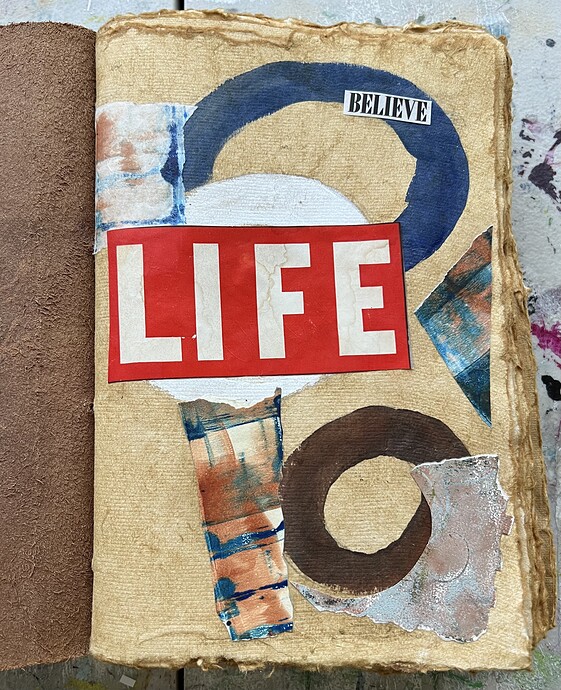 I bought myself this beautiful Art Journal but for as long as I've had it I've been afraid to begin for fear of messing it up. That changed this morning! I am happy with page 1 of my Tree of Life Art journal. I even cast aside my fear of cutting up the 1945 LIFE magazine that I recently found! Does that mean I'm putting aside any fear of life that may be lurking within?? I hope so! The circle (of LIFE) and triangle (strength) shapes are important to me as well.


That's awesome Norene. I used to collect old Life magazines along with many others. I understand the reluctance to being afraid to mess up. Plus cutting up a 1945 Life magazine.
And yet, I truly believe that magazine lives on in my creations!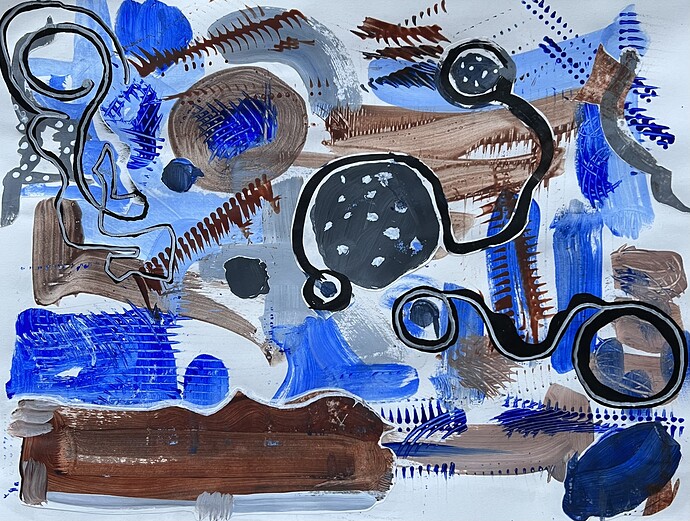 Yesterday was one of those days in Art with Friends. I had no idea what I wanted to do and felt kind of un-inspired…I chose to do something anyway. I had some left-over paint from an exercise using a limited palette (French Ultramarine Blue, Burnt Sienna, Black and White) so rather than let it dry up, I started playing around with the paint, brushes, pens and a lego-type block just making marks until all the paint was gone! Not really frame-worthy but it was fun!


I love this Norene. Well done for your first page! I love the colours as well as the paper in the journal including its colour. Great score with the old Life logo. It's perfect there. I found an original scorebook of The Sound of Music and can't use it

That blue is something else, it's really hitting my cones to quote Jerry Seinfeld. (As in rods and cones of the eye.) He's into green though. Did you mix it or has it a name?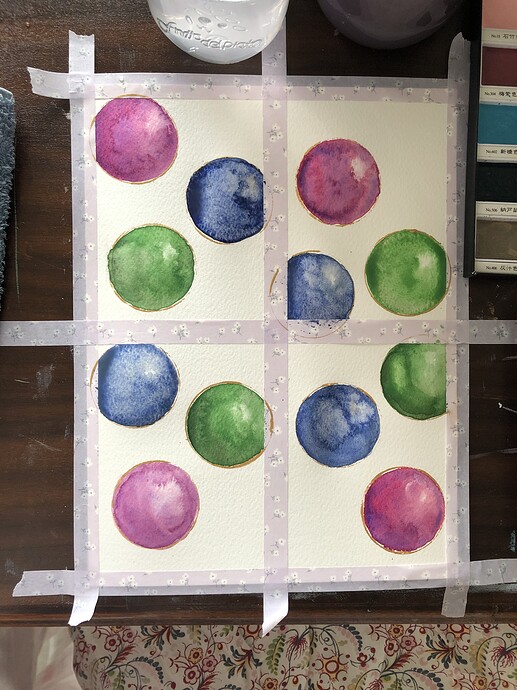 I'm following tutorial to paint Christmas baubles and finding it's not turning out like the teacher, again its Andrea who did the ocean and sunrise pic Jean and I did. Ahh well, Im learning. Will post as I complete more of it.
I found myself posting this on socials letting ppl know my goal of illustrating a fable I wrote. This is what I held back saying on a call recently just because of the advice about not getting your dopamine from the start but I forgot about that when I posted it. So here we are. Id love to learn how to illustrate it. A lofty goal right now but something which I hope will keep me learning and doing art



The colors and textures in your baubles are quite beautiful! If I may, please don't be discouraged that your baubles didn't turn out like the teacher's. Even though you are learning, I believe the difference is your own personal voice coming through. What a great idea to illustrate your fable! I would start with baby steps…maybe a sketchbook to hold ideas on which parts of your fable you want to illustrate.


Thank you, Kate ~ I understand your hesitancy to use the scorebook for found…I was afraid to use the Life magazine I found which is 3 years older than I am!! But, I just took a deep breath and jumped in!! The blue I used is called French Ultramarine Blue. In the Life piece it's straight out of the tube. In the other piece I mixed it with varying amounts of burnt sienna, white and black.


Nice idea about the sketchbook thank you Norene, and for your words of encouragement x