Here are three angel cards face down. If you want an angel message for yourself I invite you to take a breath, get quiet and ask your intuition "what card is the one for me?" "Universe, Guides, Angels, what message do you have for me?"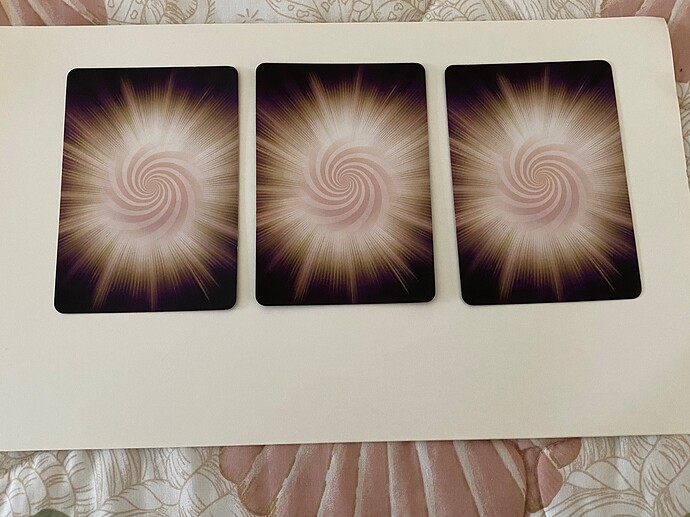 You can choose any card that speaks to you. Or all three. I chose the middle one. So let's see what our message/s are today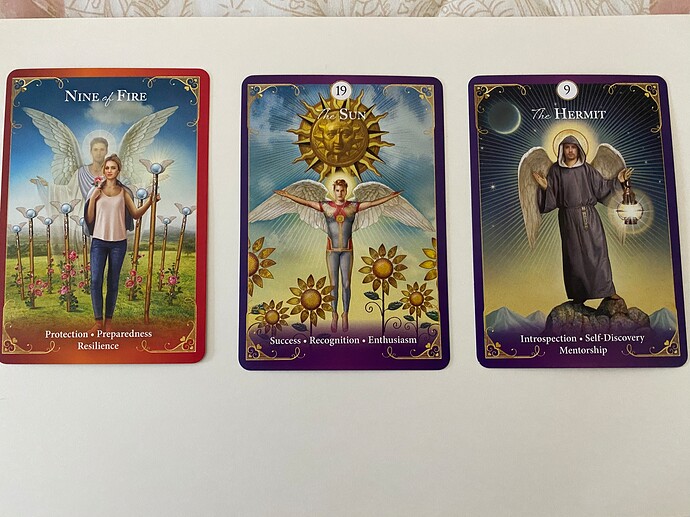 The left card, the Nine of Fire is one I love. See the angel in back of the woman? He is protecting her. We all have angels who are around us protecting and loving us. But usually we don't see them. That's why I love this card. I can visualize my angel in back of me when I feel the need and call on them. The message for you is, "Rest assured that you are always being lovingly watched over by your guardian angels. We are here night and day. You are recovering and we love you."
The middle card, the one I chose is the SUN. I love this card too. It is the big YES card. Ha, it is saying not to be shy, to accept recognition for what you've accomplished and enjoy the spotlight! The angels say, "brilliant ideas are possible now and to express yourself openly, honestly, and with complete confidence. Enlightenment, blessings.
The Hermit is the third card on the right. The angel message here is, "We love helping you, but we also know the power of having a human guide.
Rewarding time spent in solitude. Self-discovery. Excellent advice to follow. Taking a break from your hectic life."
If you are reading this later, pick your card. The messages will still be there for you.
These cards are from The Guardian Angel Messages Tarot by Radleigh Valentine.