Here's what I'm contemplating: what would be the intelligence that drives the kind of discomfort this meme describes? It's such a common discomfort…I'm VERY familiar with it myself so I think it's worth considering and unpacking the roots of the discomfort.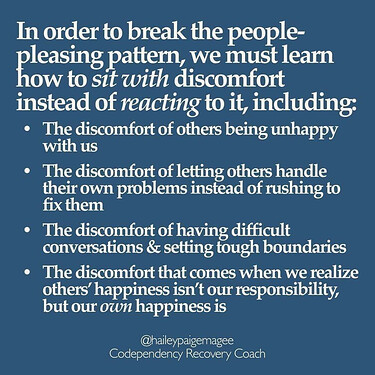 Perhaps our discomfort simply means that we aren't comfortable with perceiving others as suffering…that we are compassionate…that we don't want others to have an experience that we ourselves know to be unpleasant or even overwhelming.
Or considering this from a more primitive/survival brain perspective if we recognize that someone is in discomfort (discomfort can be a sign of danger/survival) it may mean that we too are close to that same danger (tigers, lions and bears oh my!) and if we can calm the other person(dissipate the danger signals) then we can also calm in response (aaaaaah…the danger has passed). This is all mirror neuron stuff I suppose. This sort of perspective is something I've been exploring lately…the idea that all of our behaviours stem from very simple, fundamental biological survival mechanisms. I don't think we are all that complicated frankly…our OS is pretty simple which it needs to be for survival…too much complexity is not a good strategy for survival.
However (in the context of what the meme describes) another's discomfort and upset is probably useful for their growth…their discomfort is a communication from themselves about themselves but projected onto us for them to see…

…it's a call to action to investigate and initiate some level of change for themselves. Recognizing this takes us out of our primitive brain and into the higher brain functions where we recognize that for the other to thrive they must deal with these non-life threatening discomforts and unmet expectations themselves. And most importantly, that their discomfort is not an indication that we ourselves are in danger. When we can calmly and confidently sit with our own discomfort we are inviting and making room for both ourselves and the other to thrive.