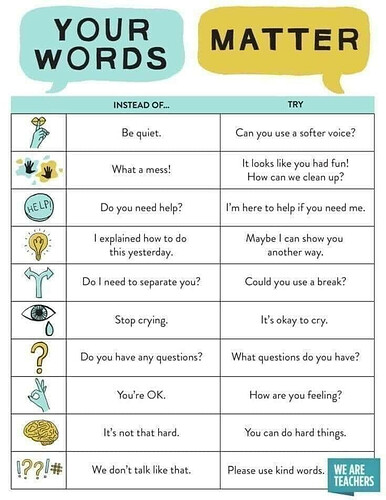 We're co-creating a "new language." It's a language where the emotional response matters.
I look at this list, and today one jumps out at me:
It's not that hard.
Wow, I've told that to myself. And it's felt like a lie. Some things (so many things!) are "easy" on the surface… with a deep emotional laboring needed that can be really HARD.
You can do hard things.
Oh, I wish and want more of that kind of encouragement from people who know and love me… and to share that kind of encouragement to those I know and love and have witnessed them do Hard Things so many times.
I used to "should" on myself all the time. I used to "have to" myself all the time. That changed, because it wasn't the vocabulary but the energy behind it that mattered to my well being.
I don't necessarily resonate with all the shifts in energy of these above, while also deeply appreciating that each is a very different emotional energy.
Are there shifts you've made in Word Energy with your kin and kids that has made a difference in how your presence is felt by them (and by yourself)?