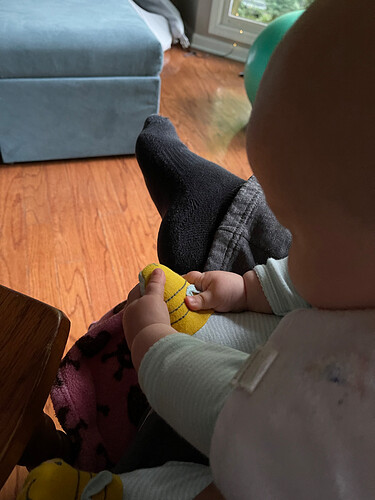 She's grabbing her foot.
Pretty mundane when I write it that way.
There's a section in my Roam journal called Moments. It's in some ways getting harder to record them. The first time we see or do something, like baby grabbing her foot or seeing the first flower of spring, the "milestone" effect makes it Moment-ous.
In the dawn light Adira grabbed her foot and explored, felt, wiggled toes under the cloth. Her eyes showed such… depth of attention.
How does one capture in letters such an experience? Make it a poem? A song?
Most of the times these days I just let it seep into my core, undocumented, to become a moment she and I have gotten to experience together, as mutual witnesses and co-creators… a million such moments in just 6 months.
How rich we can be with each other… when we're Present.
What's a moment you have shared with Life recently that is richer for you than you can capture with words?