A pretty long one, but here goes!
As some of you might know, I'm crazy about guitars, but I still can't wrap my head around what I want, what I need and what I desire. And sometimes, it does feel like I'm somewhat a little "out of control" in my hunt for the guitar that truly "matters to me".
Am I clouded by my own selfish desires? Am I simply following my passion? Or am I going to face the music of relentlessly spending money buying guitars that serves no value in my life?
I've recently bought a fender telecaster, sold it to a second hand shop, and lost a couple hundred dollars. That stings, a lot, especially when I lost that much money in that short span of time, and not utilizing that guitar much at all (it was only a few days of trying out and I'm like, nope, this ain't gonna work…!) Well, at the very least, I'm sure of what I really don't want. Much like Thomas Edison, if I'm gonna buy 1,000 guitars that failed, i hope that i can reframe it to start seeing that I am starting to find the "1" guitar eventually, based on the 1,000 guitars that didn't work for me.
So what if it looks good? So what if it was made from a reputable japan brand? so what if it had great pickups and electronics? I mean yes, they all do matter, but it doesn't matter how great of a quality they all are if it doesn't speak to you, if it doesn't sing the song you want it to sing. Because of this preconceived notion that better quality = better guitars, I've avoided fender like a plague. Back when I was still new to guitars, I learnt about G&L, read tons of reviews, watched tons of videos and concluded within myself that G&L MUST BE BETTER than fender. (For those who don't know G&L and fender, they're both guitar brand companies, with fender being probably the most popular one, and G&L is kind of the successor of it. But it did not get the popularity that fender did, so it is kind of just more unsung, and unheard of.) And so… I bought a G&L Tribute Comanche, and mann… that was a painful guitar to deal with…! While it isn't all that bad (there were still many plus points with decent playability), I started to encounter many QC issues, such as fret buzz all over, a heavy guitar, fretting out of bent notes, nut width issues, and a tight af truss rod. It just left me rather frustrated trying to fix those problems that I eventually had to sell it.
I digressed, but was it a mistake? Logically, no. I learnt a lot, and same goes for the heavy fender telecaster I bought. I know what I don't like now. I hate fret buzz that comes from the amp, dead notes are unacceptable, heavy guitars can become a dread to lug around. And modern pickups aren't necessary the best. And QC was important.
And fender? mann was i horribly wrong about them. I was just trying a Fender American Performer Strat and Telecaster last week and I was insanely blown away by how good they feel on my fingers. And with the jumbo frets, it made everything so silky and smooth! The Yosemite pickups were glorious as well, it's like nothing that I've ever quite heard before. Single coils sounded so breathable and present, and overdriven tone sounds immaculately resonant! It broke my expectations that fender guitars were just always a step lower than the other more creative and "advanced" brands like Music Man, SUHR, G&L, and even Japanese brands like Fujigen, ESP and Edwards. I don't discount the innovations and quality that comes from all these other brands, but I really had a Magical Misconception over fender!
Sure, maybe I'm paying for the brand on the guitar headstock, and sure it's a little overpriced. But I don't care, if it feels good, it IS good. I don't care if there are no locking tuners, or maybe the heel joint is just a block, or there are no locking tuners. If I like it, then I want it, I need it to value add in my life, it matters to me to enjoy the music that I want to play, and be proud of the tool that I would have to express myself in my fullest potential.
Maybe I'm wrong, and maybe my opinions would change again, but oh well, that's just life isn't it? But right now, I just can't quite stop with this. I just keep going, keep finding and keep researching until I can find the "one" that will serve me at its best, within my budget that is… But I don't know, still so much trauma around financial choices… ugh!..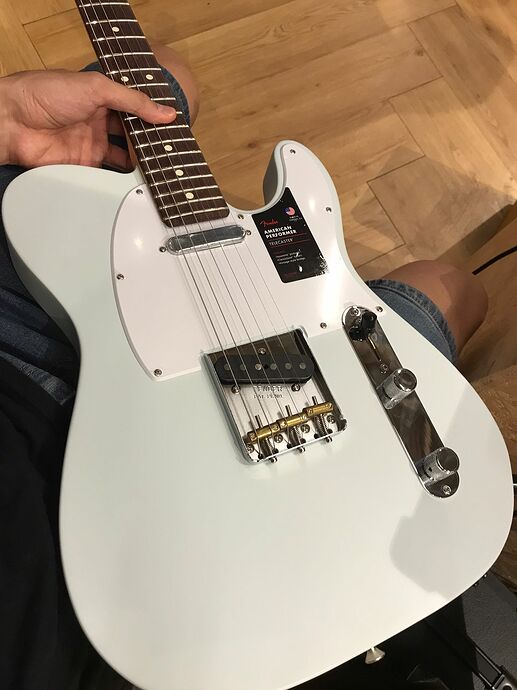 the beautiful American performer i tried…!