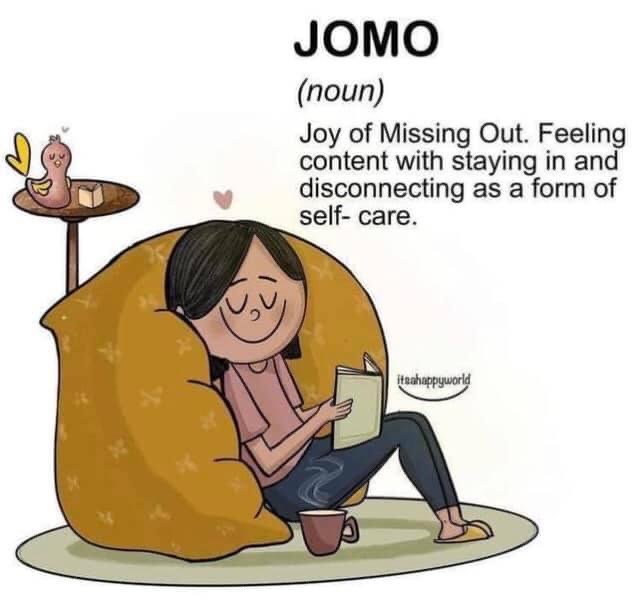 strong text
That is a nice feeling, isn't it. There is far less FOMO in my life now than in my younger years and far more JOMO. I like the shift.
JOMO - one of the essential comforts!
As I consider this more I would say the nature of the FOMO I do still feel has changed. It's more centered around family now…(and a few close friends)…as the passage of time lands on me very differently now that I am 63 years of age and have lost both parents and a brother and some friends. I have FOMO around my daughters living so far away from me and not being engaged with their daily lives in any real way. My oldest brother living far away as well…and the clock ticking. That's where I get the strongest hits of FOMO. And it's not imagining I'm missing out which is what FOMO expresses…I really am missing out and I don't have an easy solution for this.

I do understand Glenn. I have not met my Great Grandsons and may never. I was hoping for FaceTime connection but everyone is too busy. This may not sound good but I don't care anymore. It is what it is and I've tapped and cried enough. I wish them well. I will stay with JOMO as much as possible.
A part of me wants to delete this. Feels like I'm whining. Oh well. I feel kinda vulnerable. So it is.

I love this! I've internalized a lot of shame about being mostly introverted and easily overstimulated by the sounds, smells, movements and energies of others. Now, as many people in North America are living as though the pandemic is over, I've had a lot of shame and judgment as being "wrong" in my lack of desire to socialize or "return to normal."
So thank you for sharing this reminder that it can be a delight (vs a pathology) to be in my own company!
@Rach oh this is so understandable…! That's why I pull myself away from people that are extrovert and those that don't see the value in the power of being an introvert! Right distance and right depth has really guided me so much!
And wow, Glenn and Jean, seems to me like you guys are have the classical FOMO than the romantic FOMO based on this video… I'm still very much at the romantic FOMO side of it

Thanks for the vid Jun Rong…very interesting perspective. I hadn't considered things in that way before. After watching the vid I would say I'm a pretty healthy(?) mix of both romantic and classical FOMO. I see that I lean toward one or the other depending on the context. For the most part I'd say I'm 'classical' but there are some contexts where I'm solidly 'romantic'. This group make some very worthwhile videos I think. Thanks.
Yes I guess I am more the classical than the romantic FOMO. There is a little Romantic (according to the video) but I don't envy people who are out doing things that much anymore. I used to though. Oh if I could only get over being agoraphobic and feel more comfortable going out I wanted to live and work in New York City (this was before I was agoraphobic). If I felt comfortable away from home I wanted to take a train trip across the country or buy a camper and travel. I'm over that now and enjoy being home more, writing, being curious and taking pictures of the sunrises and sunsets. I might be very boring to people who want to be out there. Thanks for the video it was interesting.
@Glenn @Angelsloveyou thanks for sharing your thoughts from the video! And yes, they do give such refreshing perspective that I perhaps was once quite shut off from…! I feel like for me, I do skew over to the romantic side of FOMO, and always am looking to 1 up people in anything, when especially in the things that matter to me like learning guitar…! It gets q exhausting having to be better because others are better and not doing it because I really do WANT to be better… and express more of my creativity through my instrument…! But there's probably a lot of trauma going on, so I'm going to keep tapping on it!
I'm right there with you, Jean! I'm glad you didn't delete your post. I've tapped and cried what feels like an ocean of tears over my family situation. I have chosen JOMO and SELF-care as an essential way to be comforted especially during this complicated and stressful holiday season.
It's true I wish Cathy was coming to be with us for Christmas. And… I'm honestly got JOMO at not having to get in a car or on a plane right now, that we get to be in the flow – whatever it is – with the energies of Christmas.
I've eaten at restaurants for many holidays, too, and while I do not claim one bit that I am as savvy as a pro chef, I will cook us a leg of lamb and JOMO not having to navigate waiting and seating and tending to kids while at a restaurant this year.
…As I write this there is tenderness for the longing to be with those I love, too. Holding it All and Love to Us All.
I have JOMO about not having to be at my mother's at 11 and have to leave by noon. I have JOMO for not having to stay up half the night helping put together toys and wrapping them for all my siblings.
But as I read this I have wave of sadness and tears, not sure even what it's about.
Yes much love to Us All.
I do experience JOMO about quite a few aspects of this time of year and I experience something else too…it's not really FOMO…more like SOMO…sadness of missing out. No fear involved, just sadness of not being with my kids mostly and a few other things…no doubt there's some fear in that sadness I suppose but it's mostly sadness that I'm aware of.