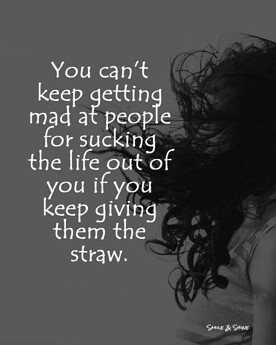 This is the meme that I woke up to on FB this morning. It's very apropos to what I'm currently involved with by me inviting my friend Dave back into my life as I discussed in yesterday's Tapping Circle.
This morning I was thinking to myself "It's not reasonable (or sustainable as a life/relationship strategy) to say to someone through my actions and words "Come closer…come closer…come closer"…and then exclaim "BACK UP!! YOU'RE TOO CLOSE!! WHAT'S THE MATTER WITH YOU!!"
For me the importance of 'owning this' is that it strongly dissuades me from falling into a sense of victimhood. "Look what he did to me!! Look how he's making me feel!!"…(after inviting him 'closer'!!). I hear SO MUCH reporting of victimization by people in their lives. I find that really troubling. I don't like it and I am as vigilant as I can be in my life not to assume that posture. For me that's just a better way to live my life. I know I don't always succeed. And I'm certainly not saying there are not situations and circumstances where people truly have been victimized. Of course there are!! Real victimization is rampant in this world and that makes me very sad and angry. I'm talking about choosing to feel like a victim despite the circumstances of 'victimhood' strongly suggesting that I was a participant in the unwanted outcome. I refuse to wear victimhood simply because it's easy and it feels right. Simply feeling like a victim is not conclusive evidence that I was actually victimized.
So, I invited Dave to 'come closer' by answering the phone knowing it was he who was calling. I invited him 'closer' by saying 'yes' to his request for my help. When he just showed up at my door after the initial phone call?.. that was unexpected and, no, I didn't explicitly invite him to do that but knowing Dave I set in motion the possibility of that by answering the phone. If I hadn't answered the phone the probability of Dave unexpectedly showing up at my door would have been somewhere near 0%. Simply answering the phone increased the probability of that happening by an order of magnitude. Saying 'Yes' to helping him increased the probability even further. I set that in motion…I own that. I'm not beating myself up about it…I'm learning from it by asking myself questions like "How and when might I have ended 'the invitation' for Dave to 'come closer' to the point of my current discomfort. How could I utilize all the great wisdom in 'Right Distance/Right Depth'? So, my wife and I have set our limits to this current involvement and that feels good and right. Did that magically end my current level of discomfort? Nope. But I remind myself that my 'discomfort' didn't just magically fall out of the sky on me. I wasn't a 'victim' even if I kinda feel that way. I was a participant in creating the environment for that to happen and I'll just ride it out until this situation meets it's boundary…in about a week. That's doable…and the boundary will be enforced…with love and compassion…for everyone involved.
Lots of learning to be had in this juicy situation I have participated in creating…