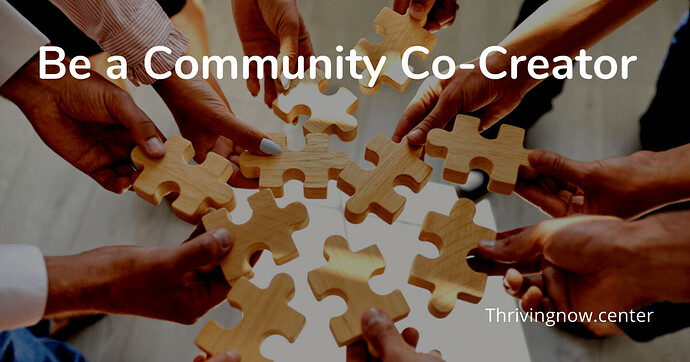 This is a community space. To grow it in a healthy way over the long term requires co-creation.
Do you want to be a part of that?
No. That's not where I am right now.
Your answer may be: "Right now, I need support for ME, for MY well-being! I honestly do not have energy to put into growing anything in the community. I am healing and that's what's sacred to me right now. Anything I have extra I need to share with my family and dearest friends."
If that is where you are, Bless You! You're in the right place. We're here to support you in that. You can stop reading now and put your energy elsewhere–perhaps click [+ New Topic] and let us know how we might support you.
Yes! I want to add my energy and heart – even if just a little as I have time and energy – to support and co-create this community.
If this is where you are, Bless You! And thank you. I know you have many ways you can express your heartistry in the world. A choice to include this community means a lot to me, and especially to those who will arrive here in a place where they don't have any extra to share.
How do we Co-Create Community?
I have ideas. I've done this before multiple times going back to my high school days. I'll share some of those ideas below.
And… please know that what comes to you and through you matters SO MUCH! Please riff on, refine, uplift, craft, inspire, add, offer, and invite based on what matters to you.
What Matters to You?
This is a significant question. I feel it is worthy of going with+in and feeling for what matters to your heart, your mind, your essence.
If you choose to become a conscious Community Co-Creator here, I invite you to focus in on ways you can support what matters to YOU in your interactions here.
What matters to you that you want to cultivate here might be single-focused. Or it might be a whole eco-system of possibilities!
For example, if a person wanted to focus on consent they might reply to someone who is having a hard month: "Would you like an energetic heart hug?"
A person focused on freedom of choice might say "I'm open to an energetic heart hug with you, or to share a story of what helped me when I was in such a place, and definitely open to writing out appreciation for your courage sharing that here. Do any (or all) or those appeal to you? It's certainly your CHOICE, and NO is always ok with me."
I share those two examples not because they are perfect ones

but because I want to illustrate that what matters to us, what we're focused on, does change how we engage with others. I want that to be okay.
You may have many, many things that matter to you, and choose to focus on one or a couple in your co-creating here. All good.

Next Steps…
If this appeals to you… you're invited to:
Reply to this message.
Share what matters (1+ things that you want to co-create around)
Let me know whether you'd like me to add you to the Community Co-Creators group and add the purple (cc) circle to your profile picture. It's a simple way for us to recognize each other as intentional co-creators here. And, it's your choice… because choice really matters to me!
With love and enthusiasm for our future Co-Creating!
@Rick